KEY TECHNICAL TERMS IN THE FIELD OF TECHNICAL BUILDING EQUIPMENT PLANNING
FROM AUTODESK REVIT TO THE VOB
Most people involved in the field of technical building planning are familiar with the following technical terms. Nevertheless, we have created the following glossary as a compilation of the most important terms and abbreviations used in technical building equipment planning to provide building owners, architects and contractors with a reference that they can consult as and when they need.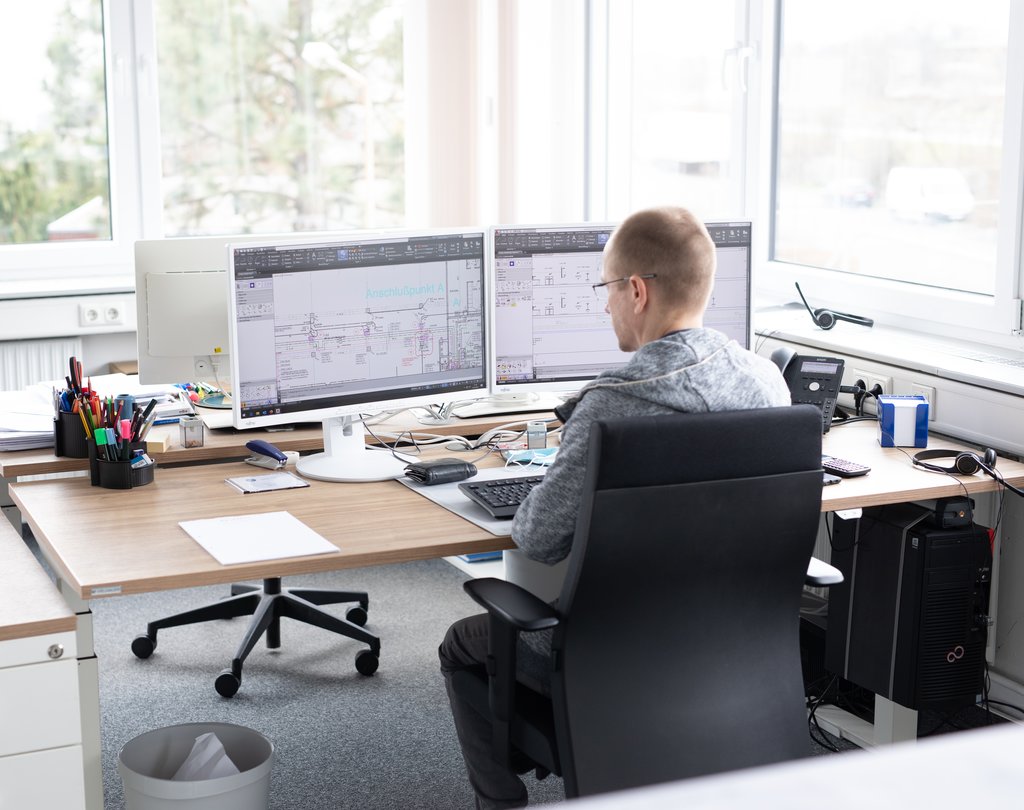 Our knowledge for your projects
Air conditioning technology
Air conditioning systems regulate the temperature, humidity and CO2 content in a room to the desired or required values. By doing so, they help to make the room a more pleasant place to be. In comparison with a system solely used for ventilation or heating, an air conditioning system can filter, heat, cool, humidify or dehumidify the air. Air conditioning systems can be used to comply with the various standards and regulations that apply to indoor climates in various areas (residential buildings, office buildings, production facilities, rooms used for medical purposes), for example DIN 1946-4, -6, and -7; DIN EN 15239 to 15243, DIN EN 16798-3 or VDI 6022.
Autodesk Revit
Autodesk Revit is a well-established software that uses building information modeling (BIM) methods to support construction planning. Planner, engineers and architects can use Autodesk Revit to produce digital 3D building models, set up BIM processes and cooperate efficiently.
AVA: Tendering, awarding and invoicing
The German abbreviation AVA (Ausschreibung, Vergabe und Abrechnung) refers to the process of tendering, awarding and invoicing in the construction trade. It describes the three main services involved in property and specialist planning. AVA covers describing the scope of services (call for tenders), contracting the provider chosen to carry out the work (awarding) and settling accounts for the services after the construction work has been completed (invoicing). Special AVA software is normally used to carry out these tasks.
BIM: Building Information modeling
Building information modeling (BIM) is a software-based method used to plan and execute construction projects and manage buildings optimally. All of the required building data are recorded digitally and integrated into a 3D building model. These digital building data form the so-called digital building twin, which facilitates the efficient management of a building throughout its entire life cycle.
Building services
Technical building equipment is sometimes also referred to as building services. This layman's term usually only covers the sanitary engineering and heating and ventilation/air conditioning technology used in residential buildings. It also, however, refers to all electrotechnical, electromechanical and control systems that are permanently installed in a building.
CFD: Computational fluid dynamics
Computational fluid dynamics (CFD) are computer-based numerical methods used to simulate turbulent air flows. They mostly use Navier–Stokes equations, Euler equations or potential equations as model equations. In construction projects, CFD can simulate detailed fluid dynamic effects and determine their impact on the functional capability of the technical building equipment in as early as the planning phase.
FAT: Final acceptance test
The FAT is the last technical acceptance test carried out before a building is commissioned. Its results provide evidence that the technical building equipment meets all technical and quality requirements and complies with all contractual requirements.
GA: Building automation
The term "building automation" (known as "Gebäudeautomation", or GA for short, in German) covers all installations that independently control, regulate and monitor technical building equipment and record operating data. It involves using bus systems via which all equipment and systems in a building are connected and thus centrally controlled. Building automation aims to save energy and increase both living comfort and safety.
GEG: German Buildings Energy Act
The longer name of the German Buildings Energy Act translates to the "Act on Saving Energy and the Use of Renewable Energies for Heat and Cold Generation in Buildings". The act aims to promote the use of energy in buildings that is as economical as possible. To facilitate the sustainable development of energy supplies, the act also aims to achieve an increase in the use of renewable energies to generate heat, cold and electricity for building operations. The GEG replaced previous statutory requirements such as the German Energy Saving Ordinance (EnEV) and the German Act on the Promotion of Renewable Energies in the Heat Sector (EEWärmeG).
GLT: Building control system
The term "building control system" (known as "Gebäudeleittechnik", or GLT for short, in German) summarizes all systems that are used to monitor and control technical equipment in buildings. The building control system facilitates the automation and remote control of various devices and systems. It is also used to record measurements and operating states that can subsequently be consulted and evaluated for process optimization. In large properties, a building control system reduces maintenance and operating costs and requirements and leads to more efficient energy usage.
Heating / Heating engineering (heat supply, water heating)
The term "heating engineering" covers all functions and technical components used to generate heat, distribute heat and emit heat to the rooms or systems being supplied. This includes all of the equipment installed in the areas of fuel technology and energy sources (e.g. gas, wood, electricity, solar heat, environmental heat or district heat), the heat distribution system, heated room surfaces (radiators and heating areas) and process and control technology. Heating engineering is closely connected to the area of water heating because thermal heat energy generation and water heating usually take place in the same shared system.
HOAI
The abbreviation HOAI stands for Honararordnung für Architekten und Ingenieure, the German regulations on architects' and engineers' fees. The HOAI divides up the individual phases of planning completed by an architect or engineer during a construction project into nine work stages. It defines the content of these work stages and specifies their proportion of the overall fee. The nine work stages are: determination of the basic principles, initial planning with a cost estimate, draft design planning, approval planning, implementation planning, preparation of awarding the contract, collaboration when awarding the contract, site supervision and site management.
Mechanical commissioning
Mechanical commissioning is the final stage of a construction project. It takes place before the building is handed over to the building owner and commissioned. The commissioning process uses various tests and analyses to ensure that all building systems are fully functional in line with requirements. It also runs through planned fault scenarios.
Media supplies
Hospitals, laboratories and industrial companies often require special liquid or gas media that can only be safely transported in pipes and lines made of specific materials due to their chemical properties. When it comes to media supplies, the optimal materials are chosen based on the chemical properties, required supply pressures, etc. of the transported media and used to create customized and safe pipe, line or duct systems.
Potential analysis
Many technical systems in existing buildings are operated with suboptimal energy efficiency or in a way that raises concerns in terms of hygiene without their users or operators being aware of these problems. A technical potential analysis explores the optimization potential of each property. Technical potential analyses are conducted by experienced experts who use high-precision measurement techniques.
Refrigeration technology
Refrigeration systems are a sub-category of air conditioning in buildings and help to achieve desired temperatures below the ambient temperature in spaces or processes. In refrigeration systems, the heat is absorbed by an evaporator and released by a condenser. The waste heat produced can be fed into heat recovery plants for efficient energy management or alternatively dissipated outside the building.
RLT: Ventilation and air conditioning
Ventilation and air conditioning systems (known as Raumlufttechnik, or RLT for short, in German) are used to regulate the climate within a room or space. They are used in residential, office and public buildings, as well as in production areas. Depending on the scope of functions required, ventilation and air conditioning systems can solely treat the ambient air or also use a supply of fresh air and removal of exhaust air to minimize the concentration of harmful substances or odors in the air, as well as regulate the indoor climate by heating and cooling and/or humidifying or dehumidifying the air. In addition, the selection of the appropriate filter quality and other measures can be used to improve or control the air purity.
Room automation systems
Room automation systems form part of the building automation. They are integrated systems that carry out the different automation functions within a room. As a result, the control of lighting, roller shutters, blinds, heating and air conditioning is consolidated in a single system that can be operated by a user either via an end device or remotely.
Sanitary planning
Sanitary planning involves the planning of a building's entire sanitary engineering. This covers the technical installation of a building's gas and water supplies, as well as its wastewater disposal with all pipes, faucets and other fittings. Important topics to be considered in the area of sanitary planning include drinking water hygiene and the latest discharge requirements for wastewater stipulated by the local authorities.
Systems for process heating, cooling and ventilation
Systems for process heating, process cooling and process ventilation ensure that in industrial production, the climate conditions defined for each production process are precisely maintained. Process ventilation systems provide the correct humidity and air purity. Process cooling systems cool the ambient air for specific processes, while process heating systems produce either dry hot air or steam depending on requirements.
TGA: Technical building equipment
The term "technical building equipment" (known as technische Gebäudeausrüstung, or TGA for short, in German) covers all of the technical equipment required to use a building for its intended function and installed in the building or its external facilities. This includes heating systems, ventilation and air conditioning systems, refrigeration technology, sanitary installations (such as water, wastewater and gas systems), power supply systems, elevators, information technology, communication systems, building and room automation systems, fire extinguishing systems and media supplies. Technical building equipment also covers cleanroom fittings, fixtures and technology in industrial sectors such as pharmaceuticals, electrical engineering and food processing. Important core topics in the field of technical building equipment include energy efficiency and operational reliability.
TrinkWV: German Drinking Water Ordinance
The German Drinking Water Ordinance (Trinkwasserverordnung) regulates the protection of drinking water in Germany. Its regulations aim to secure the fitness of drinking water for human consumption and protect human health against risks caused by contaminated water. The Drinking Water Ordinance stipulates that various monitoring measures are required in buildings even as small as multiple dwelling units housing more than two parties.
VOB: German Construction Contract Procedures
The German Construction Contract Procedures (Vergabe- und Vertragsordnung für Bauleistungen (VOB)) form the foundation for contracts and agreements between building owners and construction service providers in Germany. They contain general provisions on the awarding of contracts for construction work, general contract terms and conditions for the execution of construction work and general technical contract terms and conditions for construction work. The VOB stipulate clear and binding regulations for all contract parties on matters such as construction delays, construction deficiency management, concerns of parties involved in a project, auditing of accounts, recording measurements, keeping records, acceptance, technical foundations for different specialist trades or other concerns. Although the VOB are only mandatory for public construction projects, they are also frequently applied to private construction projects.
Ask your individual question
Thank you!
Your request has been submitted.